An ode to sandy soirées and summer days spent under the sun with the ones we love the most.
Welcome to the world of Isla In Bloom, an Australian boutique label featuring sustainable swimwear and summer accessories, created with beautiful, bold floral and boho-inspired prints. Destined for days by the ocean that lead into nights under the stars, our sustainable swimwear, boho picnic rugs and beach umbrellas are a defining image of the Australian summer lifestyle we love and live.
Our purpose is clear. To transform the lives of women, inspiring them to live authentically and to express their individual style through our feminine prints and adjustable fits. Redefining classic styles and designs, our luxe collection of swimwear is effortless, thoughtfully designed and ultra-feminine. Igniting a new sense of confidence while you spend your day lounging on a boho picnic rug, shaded by a canopy of floral prints that adorn our beach umbrellas.
Dreamt and designed in Sydney, Australia, we research and use high quality, earth-loving fabrications and materials, made with ethical production processes in place, ensuring every piece (and our planet) is made to last.
All our signature boho-floral designs are hand-drawn and created by local artists and textile designers who bring our vision for Isla In Bloom to life. You've arrived at Isla In Bloom, welcome.
Established on Australian shores from a love of prints and colour, Isla In Bloom takes inspiration from bohemian and floral aesthetics, imagined in the daydreams and memories of past travels of Founder & Creative, Misha.
Misha wanted to create a brand that is more than simply beautiful products. To curate one that offers its customers a lifestyle, a world, a community for all.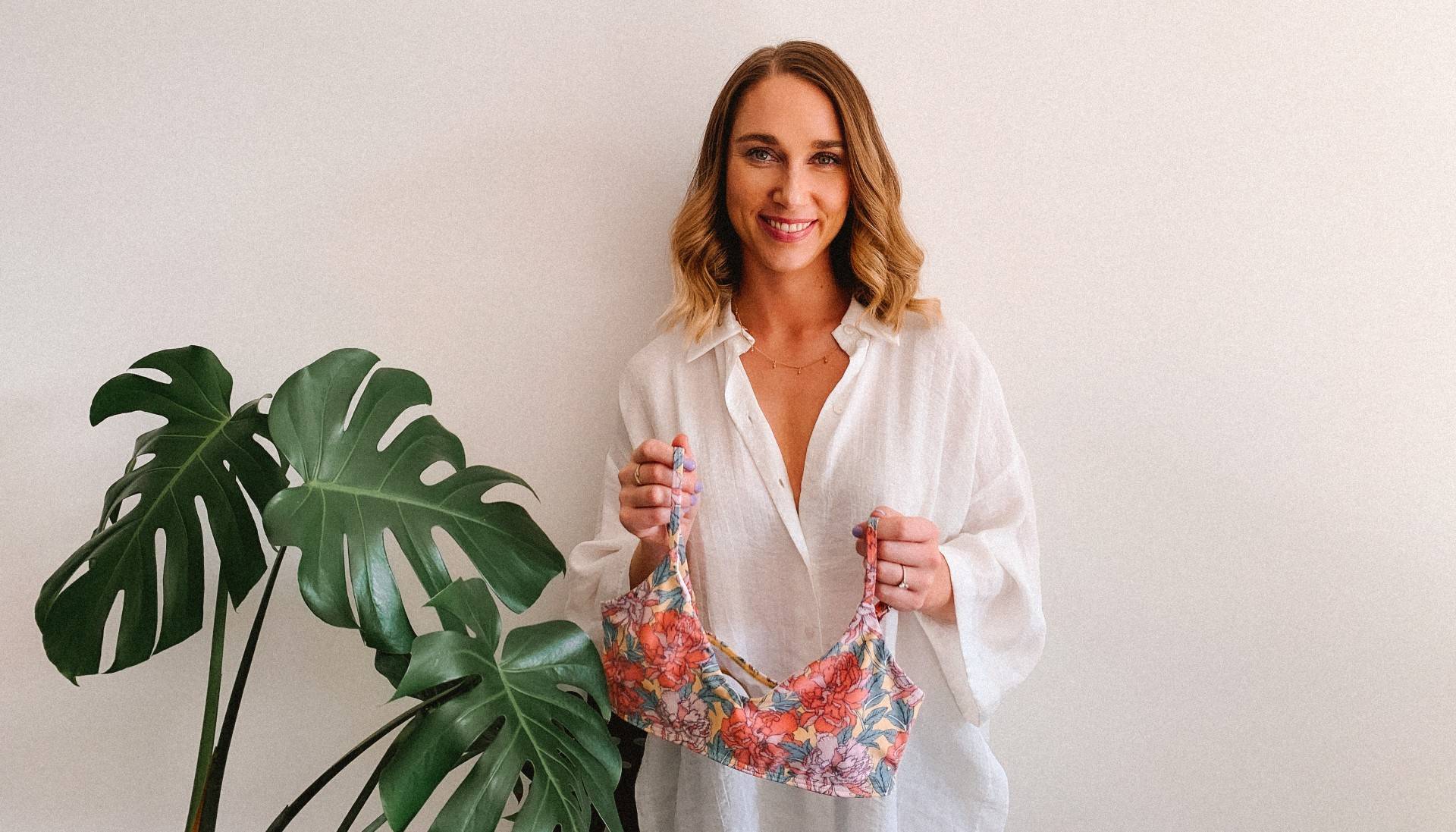 Redefining classic swimwear styles, each Isla In Bloom piece is made with purpose.
Sustainability, functionality and longevity considerations are at the forefront of our design and production process. Using pure Italian fabrics made from regenerated Econyl®, we have thoughtfully produced a premium product with a luxuriously soft feel whilst helping us maintain our commitment to protect and clean up our ocean.
Drawn, designed and made in Australia, our styles are based on the female figure, consciously noting how our bodies are different and can and do change. Meticulous attention to detail has been given to each design, including timeless shapes featuring tie-side bikini bottoms and adjustable over the shoulder straps. Soft edging moulds the styles to each woman's body. Soft enough to not cut in and firm enough to be supportive and long-lasting.
With an end goal of creating classic styles that flatter a woman's figure, we've crafted versatile swimwear to empower women, allowing them to feel confident in a bikini all summer long.
Our girl is a wanderer at heart. A summer dreamer who longs for days spent in the sunshine, making memories that take her from one summer to the next. She wants to wear swimwear that makes her feel beautiful and feminine. Swimsuits adorned in unique bohemian floral prints allowing her to express her sense of style and make her feel confident.
Sophisticated pieces in classic styles are her favourite. Pieces for minimal tan lines and effortless wear. She wants swimwear with soft edging that moulds to her body or that can be adjusted to her shape.
Quality is important to her and reflected in the soft fabric and longevity of the pieces she buys. She wants a brand that considers the female shape in all its forms and one that makes better choices for the environment. Pieces that have been thoughtfully designed at every stage, from concept to creation.
In essence, our girl is a carer. She is considerate and caring about the people around her, the clothes she wears, the products she uses and the planet she calls home.
Our girl looks for swimsuits that fill her mind, body and soul with confidence, that's why she chooses Isla In Bloom.
BEAUTIFUL SUMMER ACCESSORIES
An exciting addition to Isla In Bloom. We are pleased to introduce the next evolution for Isla In Bloom - a luxe range of boho-inspired picnic rugs and beach umbrellas, imagined for our fellow beach lovers and guaranteed to elevate your summer setting.
Conceptualised at a day by the beach, covered in sand and the warmth of the sun, discussing a lack of beautiful summer accessories in the market that fit our aesthetic and style. Our woven throws and sun umbrellas are unique - designed in Australia and manufactured overseas in small, family-run factories that uphold certified, sustainable and ethical supply chains.
Made for long days and warm nights, these new products beautifully complement your Isla In Bloom swimwear making them the perfect addition to our brand.
Our boho picnic rugs are made with 100% organic cotton. The colours and each design come to life through the technique of tightly interwoven yarn. Strong and sturdy enough to keep the sand underneath, the throws are soft to touch and comfortable against your skin.
Perfectly suited for any occasion, from a garden picnic or the beach to a camping trip or even living on the road. They're equally as beautiful for your home, and can be used as a decorative blanket or wall tapestry.
Covered in our signature bohemian and vintage floral designs, our beach umbrellas were imagined and made for sun-drenched days at the beach or poolside. Our sun umbrellas come complete with a matching carry bag and stand at 2.3 metres. The canopy extends to a 2-metre diameter, ideal for keeping cool while laying ocean-side.
Offering UPF50+ premium coated fabric and printed with earth-friendly inks, our vibrant beach umbrellas are designed to give you beautiful shade all summer long.
We're here for a long time just like our planet, so we're taking care to be responsible in our practices and make ethical and sustainable choices for our products, packaging, manufacturing and recycling processes.
You can read more about our ethics and sustainable practices by clicking the link below.