We're committed to our social and ethical responsibility to create beautiful swimwear and summer accessories with minimal impact on the environment and the people who bring our designs to life. Our desire to discover and educate ourselves on eco-friendly options and practices stemmed from the very beginning.
When we started Isla In Bloom, we were very clear that ethical and eco-conscious production needs to be our guiding principle. We've learnt so much in every stage of the manufacturing and packaging process, enabling us to select materials that are recycled and eco-friendly.
We understand that we have a lot more to discover in terms of sustainability, but we're committed to learning and adapting our products and processes to ensure that we always bring you premium, sustainable swimwear, picnic rugs and beach umbrellas. Small steps and a willingness to do better, contribute to making the overall difference. Come join us on our ethical and sustainable journey.
All of our swimwear is made from high-quality, sustainable fabric made from a 100% regenerative nylon made from ocean plastic waste sourced from Italy. The result is a fabric that is soft and long-lasting.
Our lining is made from recycled polyester yarn derived from plastic bottles. Even though the yarn is recycled, it still has the performance benefits of standard polyester which is quick drying and hard wearing, along with the added benefit of contributing to reusing unwanted plastic.
All of our exclusive prints are printed onto our premium fabric with water-based, eco-friendly inks at a local printing house in Sydney.
Our woven picnic blankets are made from 100% recycled cotton. Recycled cotton is created from regenerated pre-consumer cotton like cutting scraps and post-consumer cotton which includes secondhand clothing and textiles, which are then spun into new yarn.
The amount of energy, water and dye used to create cotton is significantly reduced by using a cotton product that has already been processed, allowing us to bring new life to cotton waste through our durable and long-lasting woven throws.
Our picnic rugs are designed in Australia and manufactured in China in a small factory that uphold certified, sustainable and ethical supply chains.
Our boho beach umbrellas are now made with recycled materials. The canopy is100% post consumer recycled plastic bottles and the tassels are recycled cotton. The canopy is SCS recycled content certified.
The wooden pole is made from FSC certified beech wood. An FSC certification sets standards on products produced from trees and certifies them as eco-friendly based on the lifecycle of the product and how it came to be: FSC standards ensure that both the environment and communities were protected during the process.
Our beach umbrellas are manufactured in China by a small factory that is dedicated to creating products with recycled alternatives. They uphold certified, sustainable and ethical supply chains.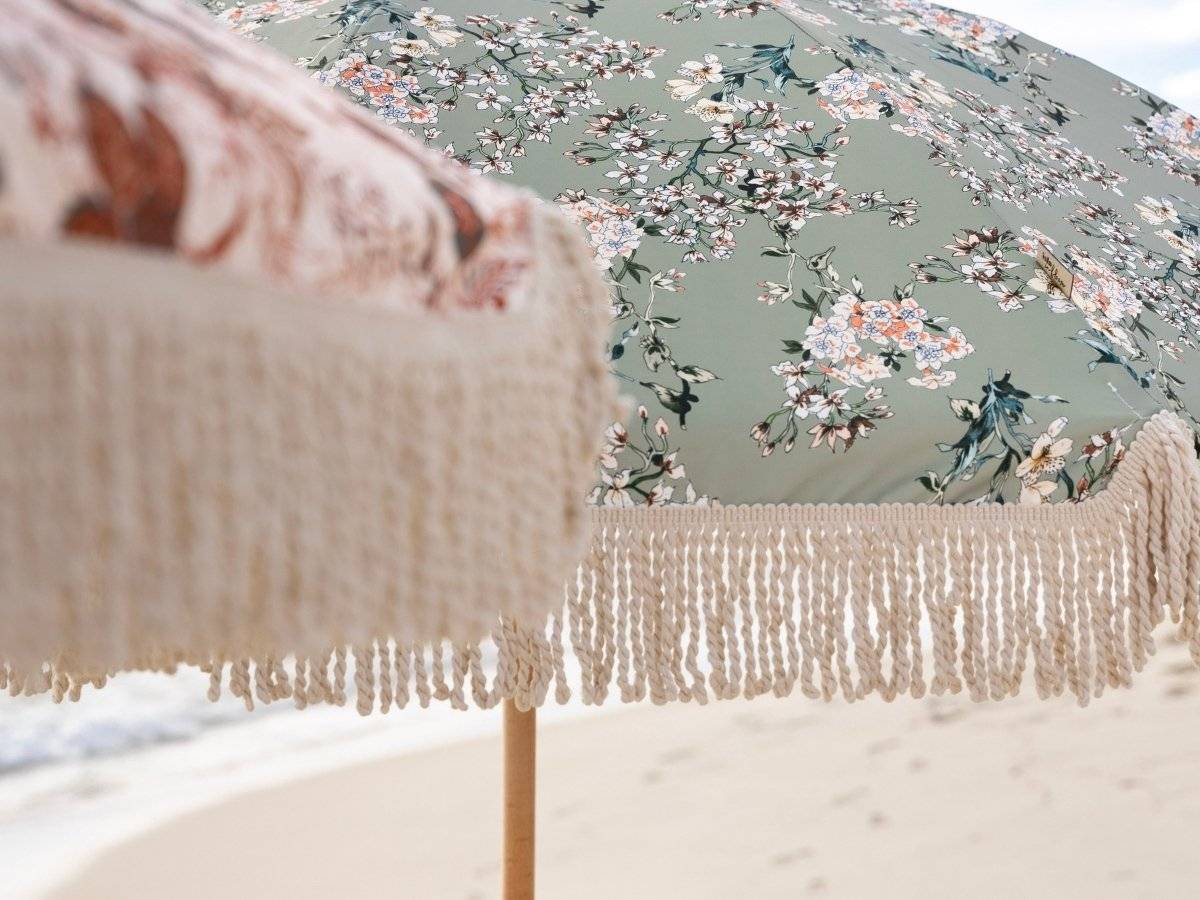 Our hang tags are made from 100% recycled paper. Our soft tissue paper is completely acid-free, sulfur-free and FSC-certified and all swimwear comes in biodegradeable bags. All printing is done with soy and water based inks.
Once wrapped with care, our swimwear, picnic rugs and beach towels get posted to you in compostable and biodegradable mailers. We've teamed up with a local packaging supplier who make zero-waste mailers out of cornstarch and cassava root. The eco-friendly mailers break down in 90 days in a compostable environment and leave no waste or toxins behind.